---
No, there is no officially released Buckaroo Banzai soundtrack CD.
According to Director W. D. Richter in an interview from the December 1984 issue of Starlog, on page 21, "Several record labels wanted it, but the powers that be kept upping the ante....Then, it simply became too late. We lost a major source of publicity."
However, there are two places you can hear the music from the film legitimitely.
The first was brought to my attention by Larry Hastings :
"I have this one CD that Michael Boddicker appears on: an eponymous album by a group called "Joyride". Joyride appears to be a loose smooth jazz collective, formed by a bunch of LA studio musicians. As far as I know they only released this one album: http://www.amazon.com/gp/product/B00038YPKU

I remembered that Mr. Boddicker composed and performed several of the tracks, and decided to give 'em a listen for the first time in years. Imagine my surprise when the first one I tried, "Reprise", is note-for-note the same as "Motorcycle Chase" from the illegitimate Buckaroo Banzai soundtracks! This track doesn't have the main Buckaroo Banzai theme, but it has one of the ancillary themes woven through it. It is unmistakably a Buckaroo Banzai soundtrack track."
The second place to find some (rerecorded) music is Neil Norman's Greatest Science Fiction Hits, Vol. IV, which contains a cover version of portions of the Buckaroo Banzai score.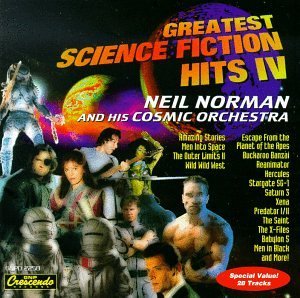 The following information is from Scott Tate :
The CD/cassette have become widely available and can be ordered for around $12-15 through many of the major online music sellers (CDNow, CD Universe, Amazon.com, etc.) as well as directly from GNP/Crescendo.
The Banzai music consists of a single track, lasting about 3 minutes 25 seconds. (The overall album is 77 minutes in length, with a total of 28 tracks.) Track 9, "The Adventures of Buckaroo Banzai," is a blending of the opening theme with the "glory walk" theme from the end credits. It's extremely faithful to Boddicker's original versions in both arrangement and sound.
The liner notes read as follows: "Michael Boddicker is one of the most recorded studio musicians in history, playing on hundreds of albums and film scores, including Michael Jackson's most successful albums. Boddicker grew up in Iowa with Bobby Sexton, with whom I [Neil Norman] made a rock album (GNPD 2198 - FACING DESTINY) and toured nationally as a sequencer band. Drums, bass and 2nd keyboard were played by computers, while we played guitars, keyboards, and sang vocals -- fairly avant garde at the time. This movie was part of actor Jeff Goldblum's meteoric rise to stardom. Since BUCKAROO BANZAI, he has had major roles in the JURASSIC PARK movies and INDEPENDENCE DAY. When we play this live, the most literate Sci-Fi fans approach and say, 'Wow, I can't believe you played that!' "
The other titles on the CD are Amazing Stories, Men Into Space, The Outer Limits II, Conquest Of The Thaxton Nebula, Escape From The Planet Of the Apes, The Wild Wild West, The Lost World: Jurassic Park, Reanimator, Buckaroo Banzai, Hercules: The Legendary Journeys, Stargate SG-1 Main Title, Stargate SG-1 End Title, Alien Autopsy, Xena: Warrior Princess, Saturn 3, The Saint, Predator, Predator II, Universes, Star Trek Encounters, Airwolf, Godzilla Interlude, Monster Zero March, The X Files, Babylon 5, Escape From New York, The James Bond Theme, Men In Black.
---
<-- Previous | Next -->
---
This page was last updated on June 10th, 2016.
Maintained by Sean Murphy [figment@figmentfly.com]