What LEGEND props have been put up for sale?
---
Here are some props from LEGEND that have been on sale recently at http://www.propstore.co.uk. This information was discovered by Cillista Slider.
A pair of gauntlets worn by the demon cooks in the Tom Cruise classic Legend. The demon cooks can be seen wearing these gauntlets on their arms in Darkness' kitchen. The pair don't match and but look similar. Made of a leather material with brown hair attached, painted to give it a distressed look and with metal studs and chains, both have a leather lace up at the back.
---
A pair of brown shorts worn by the child actor David Bennet as Honeythorn Gump in the Tom Cruise classic Legend. Gump can be seen wearing these throughout the film. They are made of small brown lycra shorts with strips of brown muslin material attached, with small pieces of wound green tape shaped to look like acorns.
---
A framed Orc arrow used in the Tom Cruise classic Legend. An arrow identical to this can be seen in the scene where Brown Tom thinks he has been shot in the head and faints, when in fact the arrow has just gone into his hat. The arrow is made of wood with black feathers attached to the end, (this style of arrow does not have an arrow head). It comes glazed and custom framed on a laser cut mount board with two movie stills featuring the arrow. The overall display measures 84cm x 53cm (33" x 21").

---
A pre-production costume study maquette for Tom Cruise's character Jack from the Ridley Scott classic Legend. The maquette was created by Charles Knode the costume designer on the movie, who also worked on the films Braveheart and Blade Runner. It was created as a detailed reference and has been hand made along with the costume and the accessories, which include trousers, jacket, hooded cape (complete with tassel detail), boots, belt and bag. The maquette stands on a wooden plinth which has a label on the back which reads 'Legend 1985, Costume for Tom Cruise (Jack), Ridley Scott, Pinewood, Designer Charles Knode'. Measures 38cm (15") high including plinth.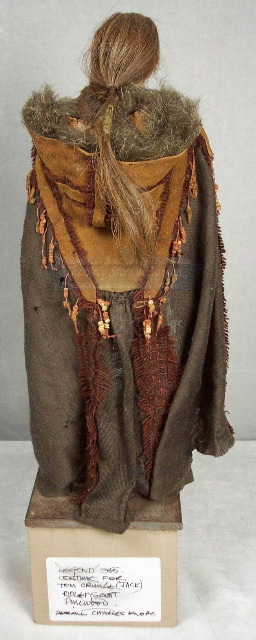 ---
A metal sword used in the Tom Cruise classic Legend. This incredible weapon was custom made for the Ridley Scott fantasy, it measures 103 cm (41") long. It has a rope grip with green colouring. The cross bar and pommel are also metal with green and pink faux jewels inlaid. The blade is steel with a slightly rounded tip. The sword can be seen in the background behind Tom Cruise in Tim Curry's lair.
---
The sword used by Tim Curry as 'Darkness' in the Ridley Scott fantasy movie Legend. This amazing weapon is made from fiberglass with metal powder in the paint to give it an incredible finish. There is also some gold detailing to the handle, some of which has worn away. The sword is heavy and measures 136 x 24 cm (53" x 10"). It can be seen at the films climax as Darkness takes on Tom Cruise. There are only three of these swords known to have survived the production.
---
The costume worn by Cork Hubbert as Brown Tom in the Tom Cruise classic Legend. Brown Tom wears this costume throughout the film. It consists of a pair of brown trousers with green trim, patches of material sewn on to it and braces attached, a cream coloured long sleeved undershirt, a brown woollen jacket which has been made out of various different fabrics sewn together with patches of material and wooden buttons sewn on to it and a thick woollen hat with a metal trim around it.
---
---
This page was last updated on January 1st, 2005.
Contact the FAQ webmaster at figment@figmentfly.com