Ridley Scott's LEGEND
Frequently Asked Questions (FAQ)
Version 6.0
The LEGEND Ultimate Edition Blu-ray will be released on May 31st, 2011!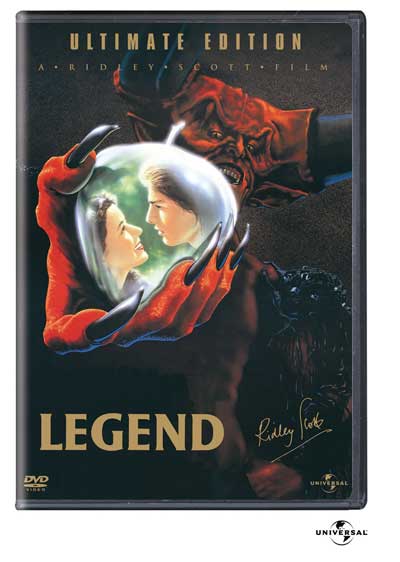 The LEGEND Ultimate Edition DVD was released on May 21st, 2002!
---
INTRODUCTION
This FAQ contains information on the film LEGEND (1985/1986), directed by Ridley Scott, that is both factual and sometimes speculative.
As often as possible, references are listed from direct sources. If you have anything factual or substantial to add to this document, please E-mail Geoff at geoffw35@hotmail.com or Sean at figment@figmentfly.com and we will work to incorporate it within.
What's new? (Updated May 1st, 2013) - Added the cover and information from the Legend UK Blu-ray and the Tangerine Dream soundtrack re-recoreded album.

---
Introduction to the LEGEND FAQ
Background Information on LEGEND
The Different Versions of LEGEND
The Director's Cut of LEGEND DVD
The Scripts for LEGEND
The Score(s) for LEGEND
LEGEND Merchandise
The LEGEND Fan Section
---
---
The LEGEND FAQ is maintained and updated by Sean Murphy (figment@figmentfly.com) and Geoff Wright (geoffw35@hotmail.com)
This FAQ began as an essay called The legend of LEGEND by Tony Anderson.

This document is copyrighted 1995 through 2013. All Rights Reserved.
---
This page was last updated on May 1st, 2013.
Contact the FAQ webmaster at
figment@figmentfly.com